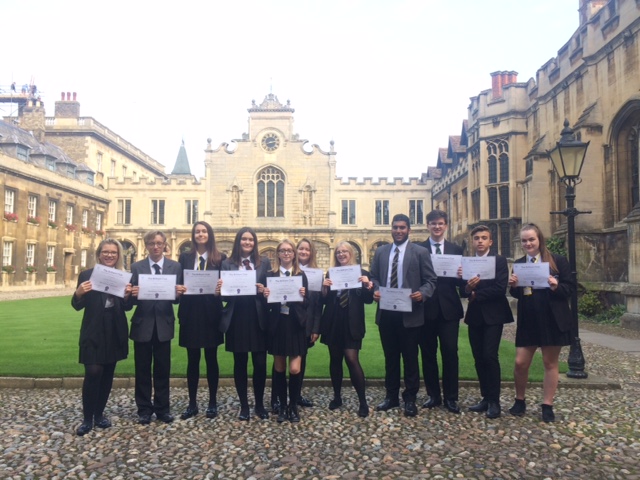 Brilliant Club
The Scholar's Programme
The  Scholar's Programme supports pupils in developing the knowledge, skills and ambition to secure places at highly selective universities. This is achieved through placing PhD and post-doctoral researchers into schools to deliver a series of university style tutorials. They have been chosen because they are passionate about their subject; have lots of knowledge about university and can help develop academic skills.
Students from James Hornsby are taught in small groups giving greater opportunity to develop questions, partake in debates and develop their own ideas on a range of topics. After each session there is a marked piece of Homework. The programme starts and finishes with a University trip to a highly selective university and culminates with a 1500 word essay.
UCAS have recently carried out a study comparing destinations of students on the Scholars Programme to those of a similar group. It found that 58% of Ever6FSM pupils that completed the programme in the past have progressed to highly competitive Universities; compared to only 11% of similar pupils nationally.
2019-2020
A group of our most able Year 8 pupils are currently participating in the Brilliant Club programme. The programme began with an exciting launch trip to Oxford University, which included a fantastic tour led by students who study there. Pupils are also experiencing university-style learning led by a PhD tutor in weekly tutorials in school. Pupils will finish the programme by submitting a detailed academic essay in April followed by a trip to another prestigious university for their graduation ceremony.
2017-2018
Year 10 students studied Genetics with a PHD student form Cambridge University. Students successfully submitted their two thousand word assignments in January. The Brilliant club graduation was due to be held at King's College London but was postponed due to the poor weather conditions. A KS3 cohort is due to start in the summer term.
SB 2.1         BS 2.2         MM 3rd       LC WTP
MJ 2.1         AS 2.2         AS 3rd
DP 2.1        DN 2.2
LP 2.1         RW 2.2
CD 2.1
CD 2.1