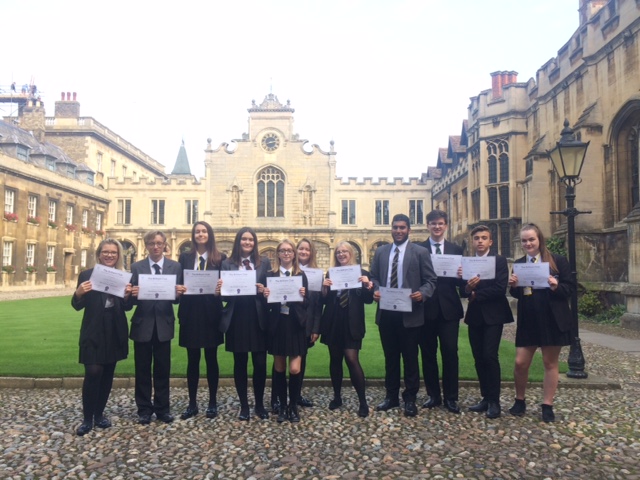 Brilliant Club
The Scholar's Programme
The  Scholar's Programme supports pupils in developing the knowledge, skills and ambition to secure places at highly selective universities. This is achieved through placing PhD and post-doctoral researchers into schools to deliver a series of university style tutorials. The PhD Tutor will have or be studying for their 3rd degree!
They have been chosen because they are passionate about their subject; have lots of knowledge about university and can help develop academic skills. Students from James Hornsby were taught in small groups giving greater opportunity to develop questions, partake in debates and develop their own ideas on a range of topics. After each session there is a marked piece of Homework. The programme starts and finishes with a University trip to a highly selective university and culminates with a 1500 to 2500 word essay depending on the Key stage.
UCAS have recently carried out a study comparing destinations of students on the Scholars Programme to those of a similar group. It found that 58% of Ever6FSM pupils that completed the programme in the past have progressed to highly competitive Universities; compared to only 11% of similar pupils nationally.
2015-16 cohort (Y9/10)     Grade                        2016-17 Winter cohort (Y8)          Grade
Bethany Hibberd              1st                             Ciara Graham                                 2.1
Mihai Bogdan Damoc      1st                             Nathan Fenn                                 2.2
Katie Merrick                     2.1                              Filiz Aymergen-Croft                    2.1
Megan Gower                    2.1                             Tegan Bartley                                 3rd
Peter Mackenzie               1st                             Mitchell Freeman                          2.2
Phoebe Dalby                    1st                            Lauren Howlett                               2.1
Carmen Johnston             2.2                            Owen Perry                                     3rd
Ioana Scutaru                    2.2                            Hafsa Khan                                      1st
Olivia Coomber                  2.1
Ryan Neylon                       2.1
Tiberiu Cojocaru                 2.1
In the spring term two cohorts began their journey to becoming scholars; one Y7 and one Y9 cohort. As with previous cohorts over 70% of pupils are Ever6FSM. Due to the success of our pupils we have been awarded twenty four free placements in the summer term for our KS4 pupils.
Spring 2016-17 cohort (Y7)   Grade
Alfie Wilson                            2.1
Joshua Sparks                       2.1
Sophie Redford                     2.2
Matthew Philips                    2.1
Frayja Hollington                   1st
Tamsin English                      2.2
Chloe Harrington                   1st
Jay Davis                                  2.1
Carrack Ayres                         3rd
Oluwile Akande                     2.1
Oliver Weston                         2.1
Spring 2016-7 cohort (Y9)     Grade
Samuel Traxler                        2.2
Joshua Stringer                      3rd
Lewis Rolph                             2.1
Luke Martyr                              2.1
Aleshia King                            2.2
Clara Dawe                              1st